So after being in the city for the second week, just after the ice storm hit…I FINALLY had the chance to catch up with a supremely dear friend in her newly wedded home in Long Island.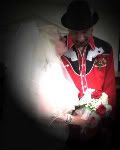 While on the tour of their cozy home with captivating nostalgic black and white photos of her husband in his boyhood lining the hallway walls, along with all the other coveted vintage treasures competing for space among the myriad of tools for their musical collaboration…Mandy, my gracious hostess, offered me the choice of hot blueberry or peppermint tea. I took the peppermint as we headed into the living room where I was made privy to the genius that will be their first full-length album "High Time".
As we listened to the songs, she explained that the work was in the faithful hands of Kirk Yano, who's done work for artists such as Mariah Carey and Public Enemy. The hope is that will be ready for release within the next few months. But for now, like everyone else, I must eagerly await in anticipation and munch the music from their website
screaminblues.com
.
This was part in parcel for the leap to suburbia from the magical isle of Manhattan over six months ago. It was so that she and her, then, fiancé Sturgis Nikides could be closer and also work on their ever-expanding volume of music together for their current Rock infused Blues Band known as
Low Society
.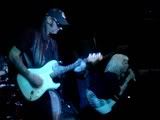 For Mandy, it may have been love at first sight when she laid eyes on Sturgis nearly two years ago, but it was definitely love after hearing the exquisite critically acclaimed guitar playing that has been his love since childhood. It almost seems that fate could not have joined a better pair…
After so many musical projects in Mandy's pockets over the years, she met a match for her compelling soulful voice in the graceful and tightly tuned melodies of Sturgis; both having rock and punk origins with the heart, soul and talent for blues. As I listened to the unmixed tracks, I was astounded at how poetic this self produced interplay of his guitar and her voice literally married into one sound birthing a life of its own; to lead me through an incredibly intimate journey of the union of these two souls.
I was so struck by the wonder of this magic while listening to "Three Time Loser" I ended up in a puddle of tears. Thankfully my lovely hostess was refreshing my tea and I spared her the waterworks show...but of course I told her anyway; "That's what you get for playing 'Emo-billy' music!", to which we both mused.
Song after song was just as moving, each in a different way.
The brilliance of the album in it's entirety is that it takes you on a trip that is akin to witnessing the origins of the Earth…with masterful acoustic duets, standard blues ballads and hard rocking roof raising foot stomping mania linked by the brilliant spirit of this married dynamic duo.

It was after all of this, that a week later I had the chance to see them perform twice. They have such a chemistry together that regardless of whether they play at the EXTREMELY intimate
Three of Cups
basement lounge, or have special guest
Jahn Xavier
on stage at the gritty-glitzy
Bowery Electric
…the shows are always fused with a frenetic energy that is easy to get swept away in.
I look forward to the time that the rest of the world has the privileged insight that I do into their art, hearts, and soulful blues .