I venture to my first show as a resident of the big NYC on the advise of a friend... who happens to be a phenomenal artist himself with a minimal synth project called
Frank Alpine
. (You will here more about that at a later time).
Although I was feeling a bit 'if-y' about going out, I simply had to see this artist that I heard such good things about. So, I scooped up a friend from China Town and we headed for the
'Wierd'
record release party of
Martial Canterel
.

So, as we descended into the cavernous basement bar known as Home Sweet Home, we were greeted by objects de art on the walls, taxidermy in display counters, but more importantly, before all of that... at the door!
Lovely creatures bleached to beyond blonde all clad in black...or teased sky high black tresses angled asymmetrically to perfection, boasted an almost nostalgic quality that, perhaps, could have matched the sentiment of the bygone New York of Andy Warhol's Factory days.
Among the bevvied beauties crowded in at the bar, were the supporting 'cast' of the fabulous drag stars
Anarexia Hurls
,
Krystal Something- Something
and others, floating through the crowd adding to the ambiance reminiscent of a Geisha after tea ceremony; Adding only the appropriate air of fantasy swirling amidst the club.
Eagerly anticipating the show, I found myself so excited that I had to make my way to the ladies room...where of course, there was a line. Being the polite southern belle that I was raised to be (eh hem...how dare you!) I let a gentleman with a far more urgent need pass before me through the narrow hallway. And in so doing, I saw another man pass by puffing on, as if headed for the gallows, a real cigarette! I made the 'shame shame' sign toward him, to which he hastily agreed without even a glance, "I know, I know!". And as soon as he appeared, he then disappeared.
After my little by way adventure, it was mere moments later that I heard this mesmerizing sound beckoning me to the stage, only to see the man that was just puffing on that cigarette, was pounding his four tiered keyboard rig like a madman who was master of his method.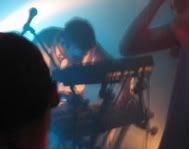 Shoving my way through the tiny, but adequate, dance floor...I finally settled for a place somewhere between the middle and front of the stage. I found myself amidst the crowd in an undulating sea of individual action and motion connected by this one genius sound.
Martial is the soul of synth-wave; Not dictated by his tools, but a master of his own emotion through the sounds he emanates from them.
From beginning to end...I was swept away with the crowd in my own motion of madness, captivated by the music and not giving a damn about anything or anyone else in those blissful moments. At the end, my sixth sense told me to bolt towards the door and I did.
Seconds afterward, after being informed by the bouncer to smoke past the orange cone,

a sea of bodies came rushing up the stairs and poured out into the sidewalk.
I glanced past the orange cone and noticed Martial accompanied by a small entourage…So, still entranced by the show...I felt the need to saunter over to hug him and send greetings from his friend (Frank Alpine) from California, to which his eyes lit up.
Such a splendid evening, so to home do I go…only to notice the next day that I got a parking ticket.
Oh well, a typical rookie mistake. Now I know what is meant by "Midnight" on the bloody signs. Just look at your computer if you're confused...as I was.
Just part and parcel of traipsing through the brambles and the glorious rose bushes of NYC. Sometimes we have to bleed a bit before we can smell the flowers.
But as Norma Shearer in the 1938 version of Marie Antoinette, said, "Perhaps the great loves come with tears".